Starters
Tuscan Bruschetta
$10.00
Fire-roasted peppers, caramelized red onions, artichoke hearts, fresh spinach & kalamata olives served with garlic crostinis finished with balsamic, pesto & feta cheese
Caprese
$10.00
Sliced tomatoes & fresh mozzarella topped with basil, pesto, olive oil & balsamic vinegar
Fried Mozzarella
$10.00
Served with homemade marinara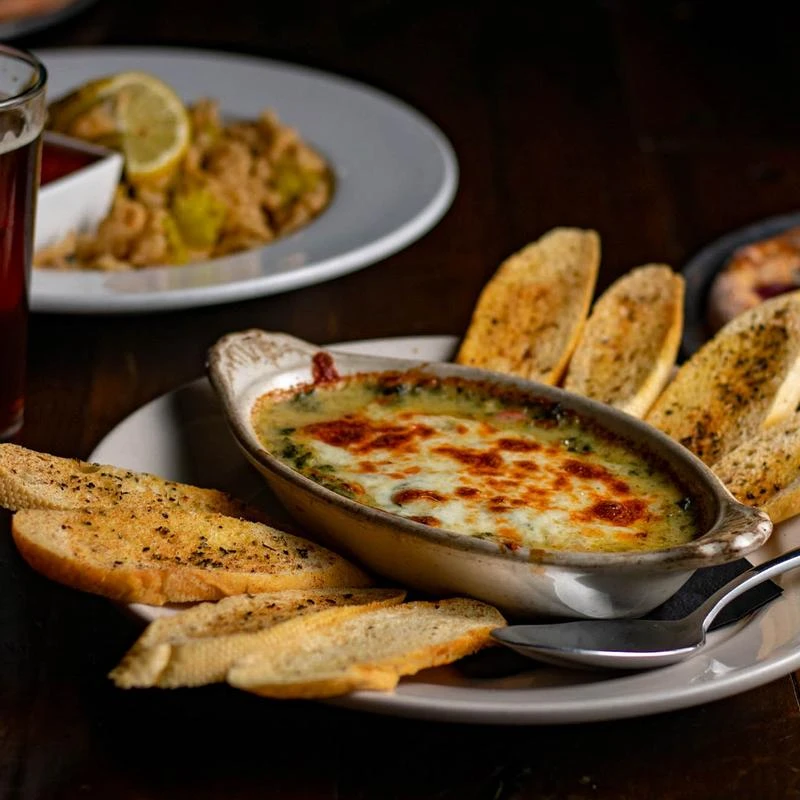 Spinach Artichoke Dip
$11.00
Creamy spinach & artichoke dip served with garlic crostinis
Stuffed Mushrooms
$11.00
Wood-fired stuffed mushrooms: 3 spinach and 3 sausage - beef
Pepperoni Rolls
$12.00
Pepperoni & mozzarella pizza rolls served with homemade marinara sauce. Owner's Favorite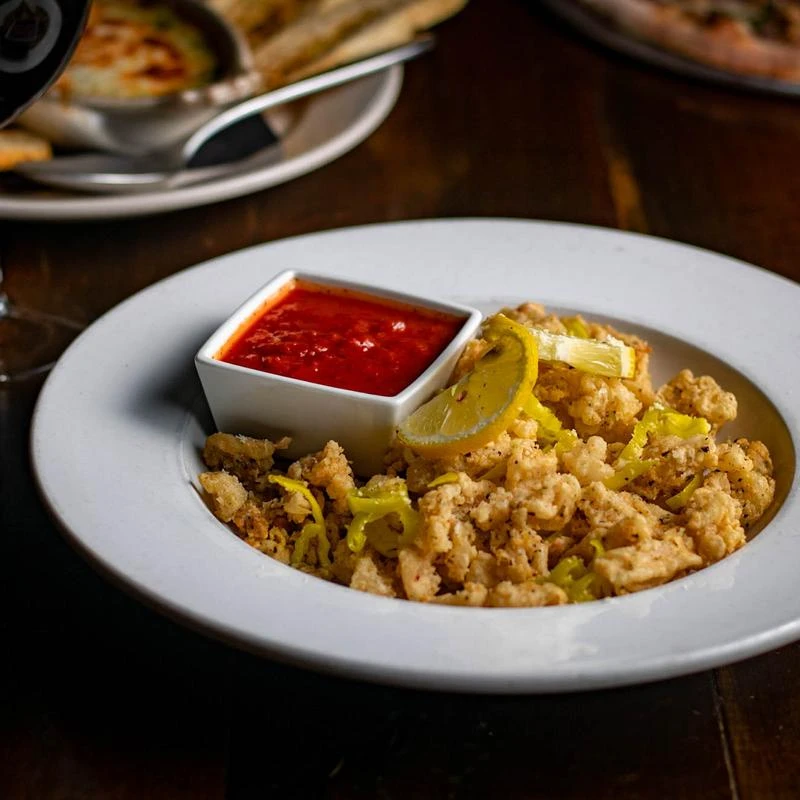 Fried Calamari
$13.00
Fried calamari and pepperoncini served with homemade marinara sauce
Sausage & Peppers
$13.00
Wood-fired grilled sausage topped with sauteed green & red bell peppers, red onions, tomato cream and melted mozzarella cheese
Crab Stuffed Mushrooms
$17.00
Stuffed with homemade crab mix & mozzarella cheese
Crab Cakes
$18.00
Two homemade crake cakes on a bed of spring mix with caper beurre blanc sauce
Seafood Entrees
Tilapia
$18.00
Pan-seared tilapia served over a bed of garlic mashed potatoes, cherry tomatoes, creamy lemon caper sauce
Salmon Piccata
$24.00
Fresh caught wood-fired in a white wine lemon butter sauce with capers on a bed of sautéed spinach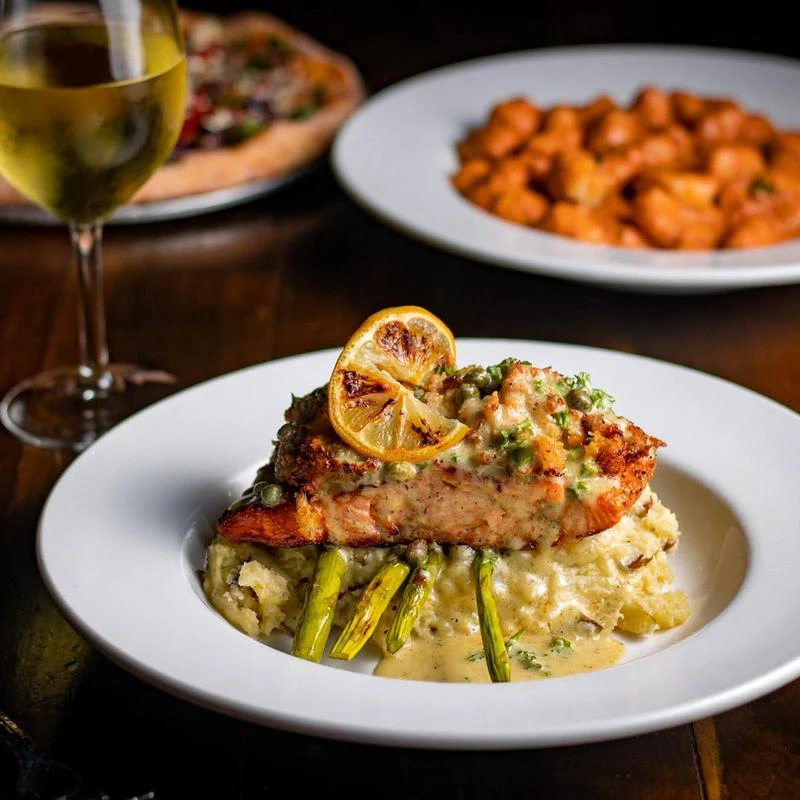 Crab Encrusted Salmon
$29.00
Crab encrusted Scottish salmon served on red mashed potatoes, asparagus, creamy lemon caper sauce
Seafood Manicotti
$22.00
Fresh pasta sheets stuffed with a four-cheese blend and Italian herbs, topped with salmon, tilapia, and shrimp in a tomato cream sauce. Owner's favorite
Classic Pastas
Penne Marsala Cream
$17.00
Herb-roasted chicken, sauteed mushrooms, onions, marsala cream sauce over penne pasta
Mediterranean Pasta
$17.00
Roasted pepper cream sauce with asparagus, broccoli, sauteed red onion, served over fettuccine pasta
Spaghetti and Meatballs
$17.00
Traditional spaghetti with meat sauce topped with homemade Italian meatballs
Chicken Fettuccini Alfredo
$18.00
Classic homemade creamy alfredo sauce tossed with fettuccine pasta & pulled chicken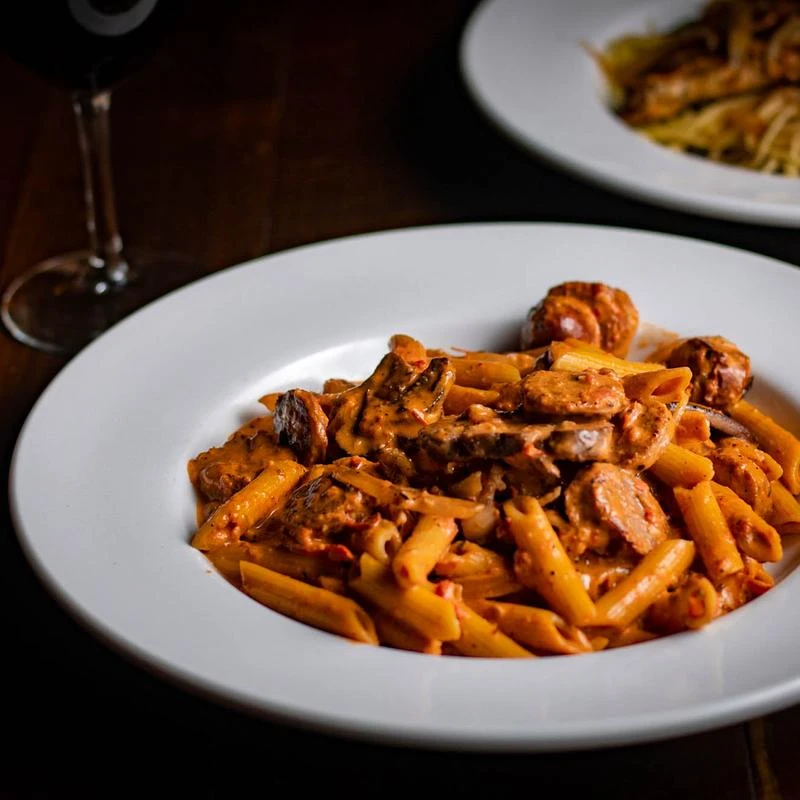 Penne Rustica
$19.00
Sausage link slices, sauteed mushrooms, onions, tomato cream sauce over penne pasta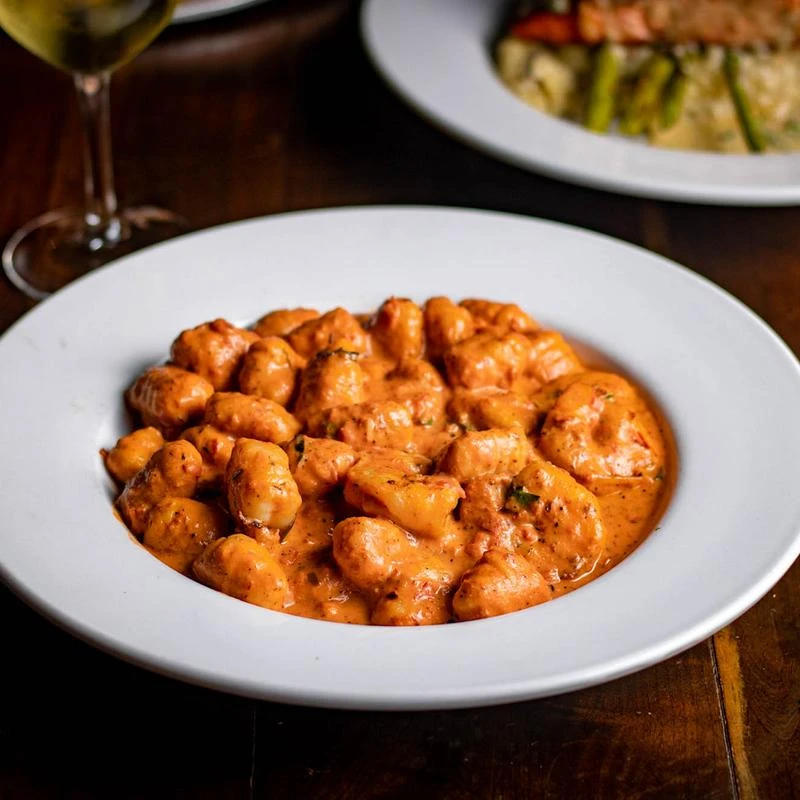 Shrimp Gnocchi
$20.00
Italian potato cheese dumplings sauteed in a tomato cream sauce with fire wood-grilled shrimp
Wood-Fired Baked Pasta
Chicken Spinach Manicotti
$16.00
Fresh pasta sheets filled with herb-roasted chicken, sautéed spinach topped with a creamy homemade alfredo. Owner's Favorite
Four Cheese Manicotti
$13.00
Fresh pasta sheets filled with Italian herbs and a four-cheese blend. Baked with your choice of homemade meat sauce or homemade marinara
Baked Ziti Formaggio
$15.00
Ziti pasta baked with homemade meat sauce and a melted four-cheese blend
Cannelloni
$16.00
Fresh pasta sheets filled with seasoned ground beef, sausage, ricotta, mozzarella, parmesan, homemade alfredo, oven-roasted mushrooms and onions
Tuscan Trio
$20.00
Cheese manicotti, chicken spinach manicotti, cannelloni
Lasagna
$16.00
Fresh pasta sheets filled with ricotta and four cheese blend with Italian sausage and beef topped with meat sauce and melted mozzarella
Classic Entrees
Eggplant Parmesan
$14.00
Wood-fired breaded eggplant with an Italian cheese blend on a bed of spaghetti topped with homemade marinara
Chicken Parmesan
$19.00
Wood-fired breaded chicken with an Italian cheese blend on a bed of fettuccine alfredo topped with homemade marinara
Chicken Piccata
$19.00
Wood-fired grilled chicken with white wine lemon butter caper sauce over a bed of angel hair pasta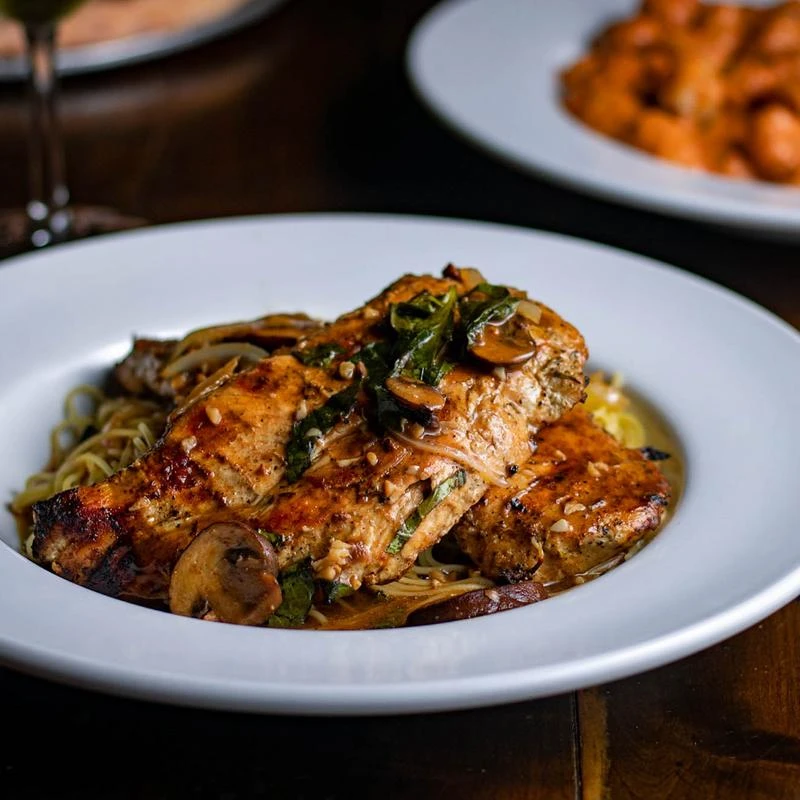 Chicken Marsala
$19.00
Wood-fired grilled chicken, sauteed mushrooms, caramelized onions, marsala wine sauce, on a bed of angel hair
Breaded Veal Saltimbocca
$24.00
Layered with capicola ham, fresh basil mozzarella cheese, tpped with sauteed mushrooms, onions, and pomodoro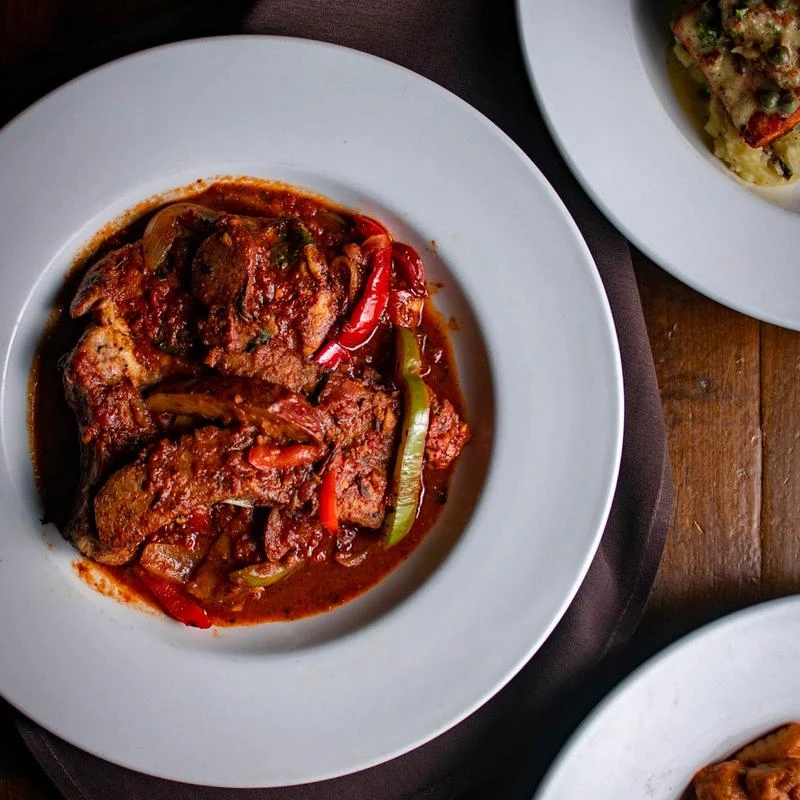 Pork Chop Vesuvio
$26.00
Topped with Italian sausage, bell peppers, onions, wedge potatoes, pomodoro
Wagyu
$35.00
Slow-braised short ribs with black truffle risotto served with asparagus and mushrooms
Dipping Sauce
Marinara
$4.00
For garlic flatbread
Alfredo
$5.00
For garlic flatbread
Tomato Cream
$5.00
For garlic flatbread
Oil & Vinegar with Garlic & Herbs
$2.00
For garlic flatbread
Salads
Add Wood Fired Chicken $4, Add 5PC Shrimp $7, Add Wood Fired Salmon $12, Add Wagyu Short Ribs $14
Chipotle Ranch Salad
$15.00
Spring mix tossed with fire-roasted red peppers, caramelized onions, black olives dressed with chipotle ranch with pulled chicken
Tuscan Spring Salad
$14.00
Spring mix tossed in Italian vinaigrette, topped with caramelized pecans, green apples, red onion, bacon bits, & blue cheese crumbles
Chicken Caesar Salad
$16.00
Pulled chicken on romaine lettuce tossed with garlic croutons, shaved parmesan cheese and creamy caesar dressing
Shrimp Spinach Salad
$17.00
Fresh spinach with pineapple-bell pepper chutney, caramelized red onion, feta cheese & croutons tossed in balsamic vinegar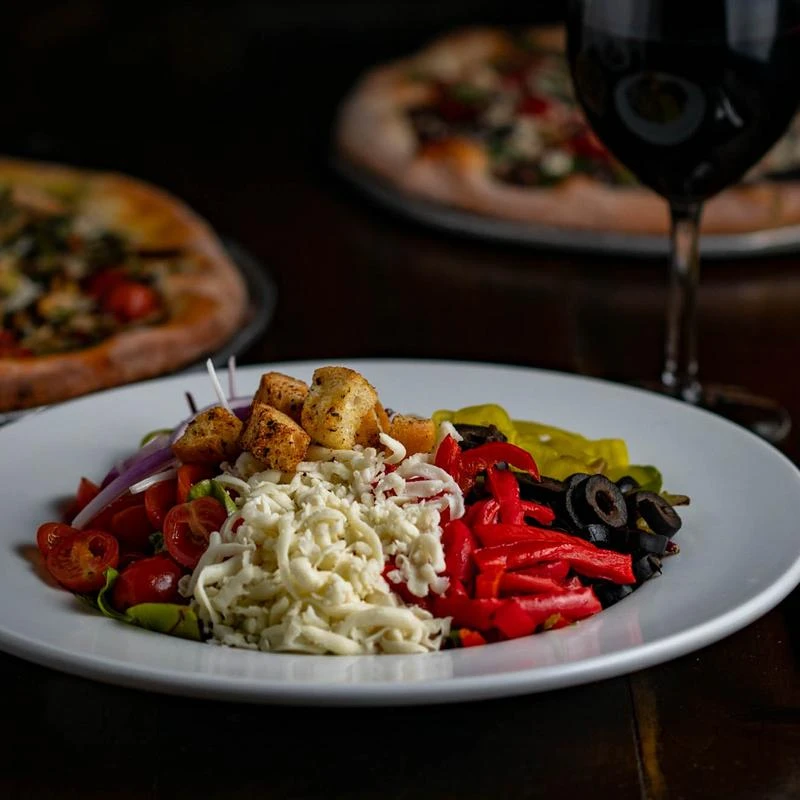 Italian Salad
$13.00
Spring mix tossed with Italian vinaigrette tomatoes, red onions, roasted red bell peppers, garbanzo beans, black olives, garlic croutons, pepperoncini, mozzarella cheese
Chicken Panzanella Salad
$15.00
Spring mix with cucumbers, tomatoes, red onions, feta cheese, green olives tossed in Italian vinaigrette with garlic croutons
Small House Salad
$5.00
With choice of house Italian, honey mustard, ranch, thousand island or chipotle ranch or small caesar salad
Soup of the Day
$6.00/Cup
$9.00/Bowl
Cup of Soup & Salad
$10.00
Wood-Fired Pizza
Additional toppings: 10" $1, 14" $2 | Mushrooms | Green/Black Olives | Pepperoni | Green/Red Bell Peppers | Jalepeños | Italian Sausage | Yellow/Red Onion | Kalamata Olives | Capicola Ham | Basel | Tomatoes | Beef | Garlic | Spinach| Chicken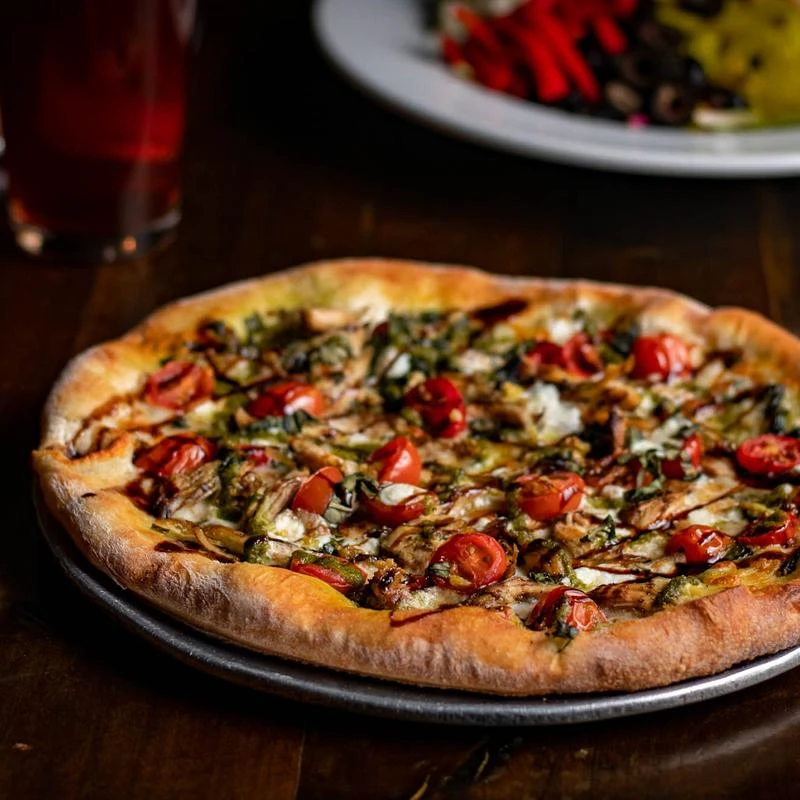 Lady Margherita
$16.00/10"
$24.00/14"
Fresh mozzarella, roasted garlic, basil, tomatoes
Alfredo
$13.00/10"
$24.00/14"
Alfredo cream sauce, chicken, mozzarella, spinach, mushrooms, roasted garlic
Garden Mediterranean
$13.00/10"
$24.00/14"
Tomato pesto, broccoli, kalamata olives, artichokes, roasted red peppers, roasted garlic, topped with mozzarella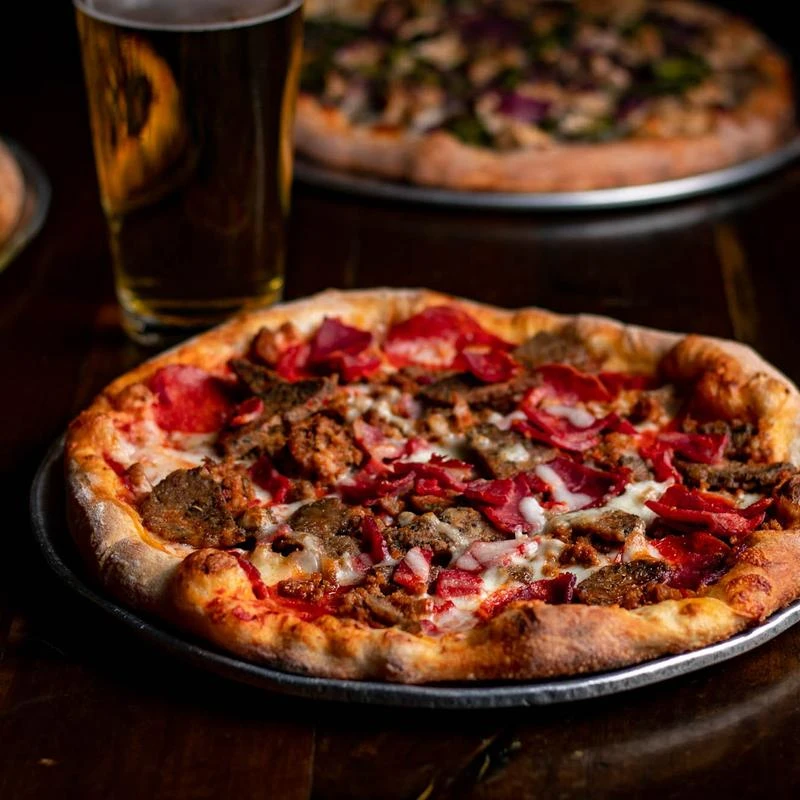 Italian Meat
$16.00/10"
$28.00/14"
Mozzarella, pepperoni, Italian sausage, sliced meatball, capicola ham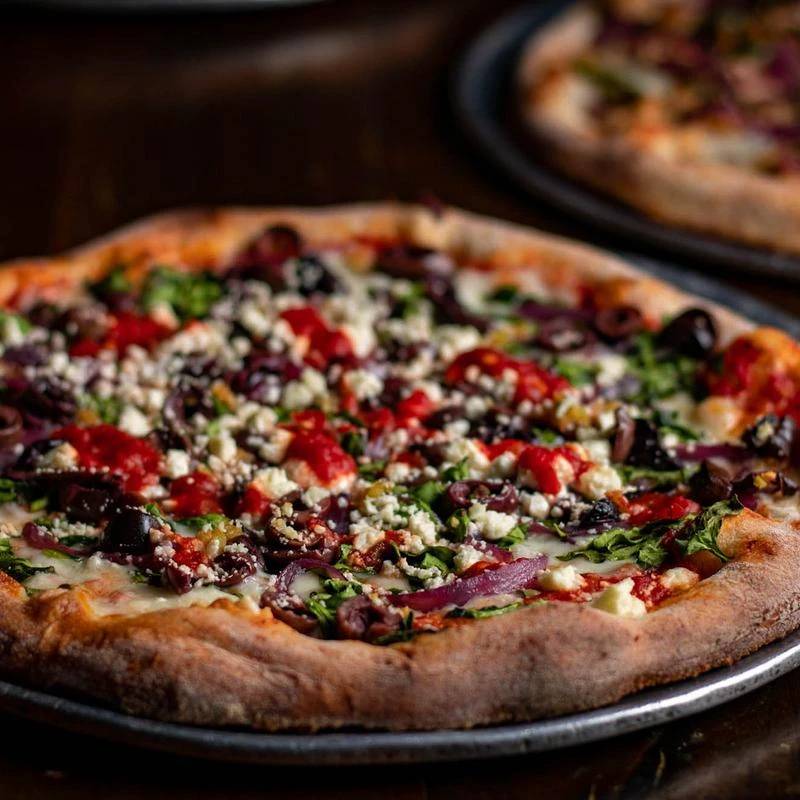 Greek
$13.00/10"
$24.00/14"
Mozzarella, spinach, red onion, kalamata olives, roasted garlic, feta cheese
Caprese
$15.00/10"
$23.00/14"
Extra virgin olive oil, balsamic vinegar, fresh mozzarella, grape tomatoes, pesto, roasted garlic, chicken
Cheese
$10.00/10"
$16.00/14"
Add toppings to create your own
Mushroom Swiss
$16.00/10"
$28.00/14"
Alfredo sauce, sauteed mushrooms, carmelized yellow onions, roasted garlic, sliced meatballs, topped with swiss cheese
Artisan
$15.00/10"
$27.00/14"
Pesto, ricotta, spinach, artichokes, mushrooms, roasted peppers, carnalized red onions, fetta cheese, kalamata olives & garlic, drizzled pizza sauce
Chipotle Chicken
$15.00/10"
$27.00/14"
Black bean sauce, mozzarella, chipotle marinated chicken, carmalized red onions, & fire roasted jalapenos
Desserts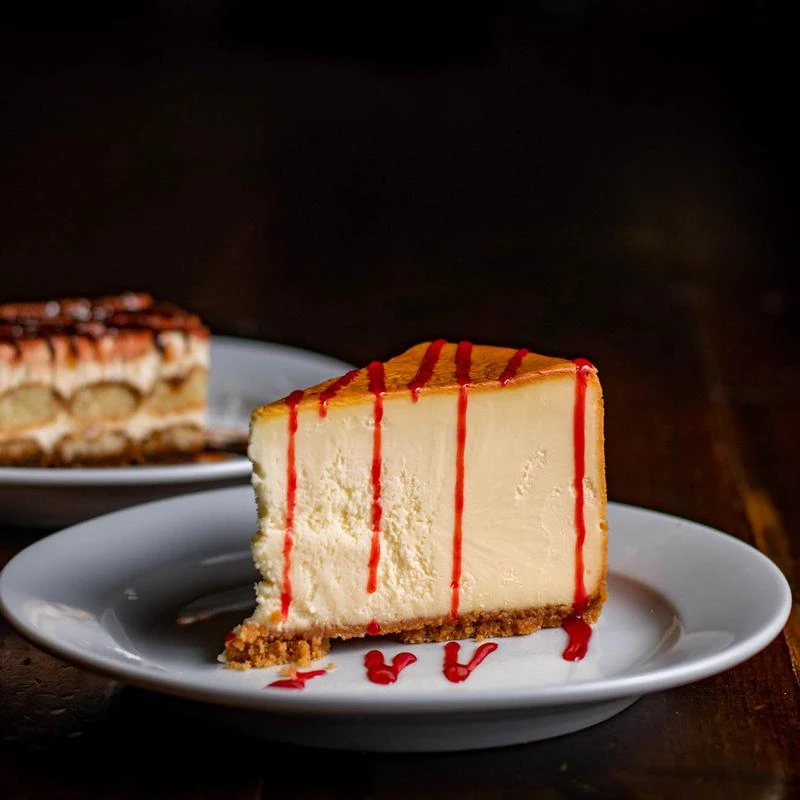 N.Y. Style Cheesecake
$9.00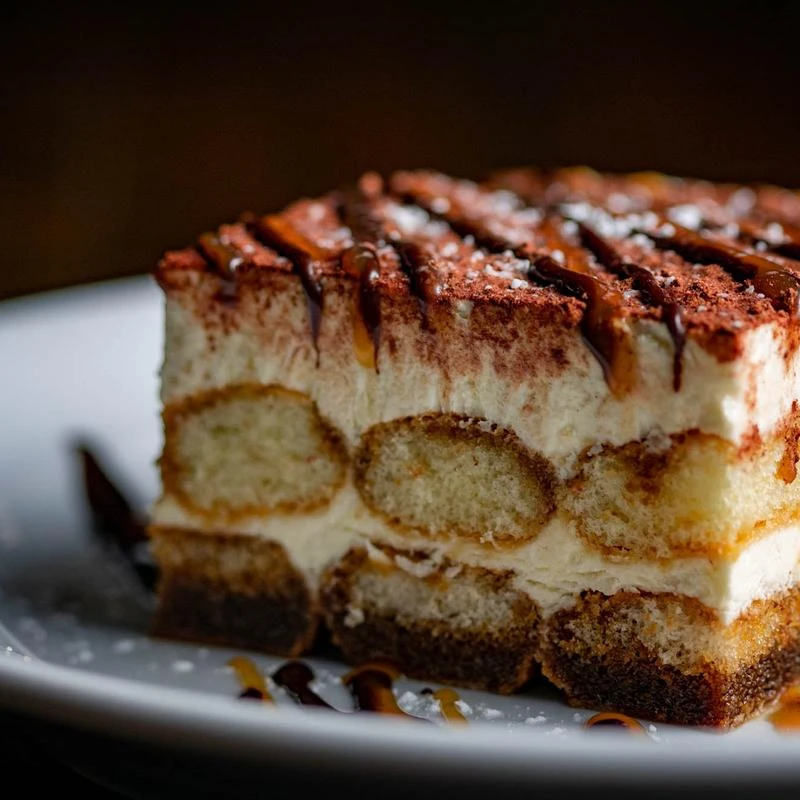 Tiramisu
$9.00
Campfire S'Mores Pizza
$14.00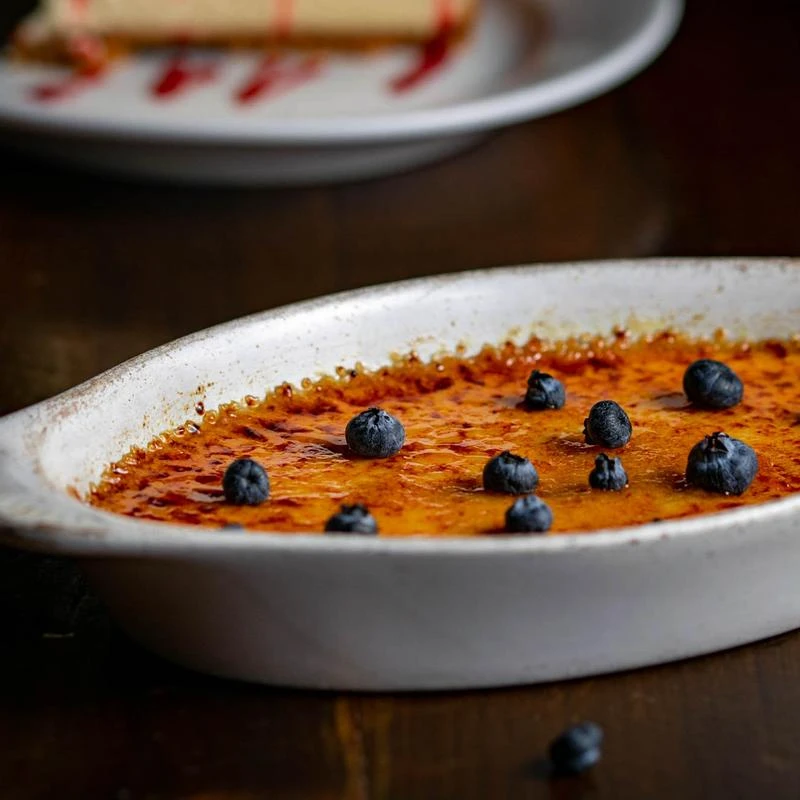 Creme Brulee
$9.00
Kids Menu
For ages 12 and under | Kids meals are served with a drink and an ice cream cup for dessert | Add Chicken to Any Pasta +$3.99
Make Your Own Pizza
$11.00
Cheese Ravioli
$9.00
With tomato cream sauce.
Fettuccine or Penne Pasta
$9.00
With alfredo sauce.
Spaghetti or Penne Pasta
$8.00
With your choice of meat sauce, marinara or butter.
Fried Mozzarella
$9.00
Three homemade mozzarella sticks with choice of dipping sauce.